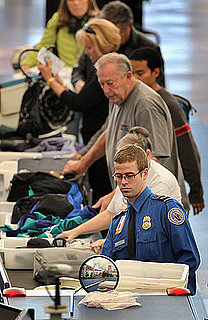 If you're heading out on a jetplane for a long weekend, you've probably already given airport security some thought. I'll leave the body scanner debate for another day, but did you know your carry-on luggage could slow you down at the checkpoint, too? Properly packing your gadgets, accessories, and chargers will speed you through the X-ray line. Here, a few tips from the TSA on how to pack your bags and move right on through security.
Pack in layers. Layer clothes, electronics, then clothes again inside a carry-on so the TSA agent can quickly see what's in there. This strategy also works better than the cram-everything-in-your-bag strategy once your unpack at your destination.
Get the rest of the tips after the jump.
Wrap the cords. A tangle of cords could look like something potentially harmful if it's viewed a certain way, which could mean a more thorough and time-consuming bag check. Wrap cords around their devices, pack chargers together in one bag (Ziplocks work!) and take advantage of rubber bands, twist ties, and other simple cord management techniques to keep them tangle-free.
Keep big items in your carry-on, not in checked bags. Laptops and DVD players have to come out of your bags at screening checkpoints, but they won't fare well in checked bags unless you're down with a TSA agent potentially digging them out.
But know what can stay inside. Don't forget, your iPad and new 11-inch MacBook Air can stay in your carry on. All other laptops (including the 13-inch Air) need to come out.