Gadgets at CES
Gadgets That Got Us Through CES
We were packing a lot of gadgets during our trip to CES, and they helped us capture the moments on video, film, and via Twitter and Facebook. Want to know what we were using? Find out below!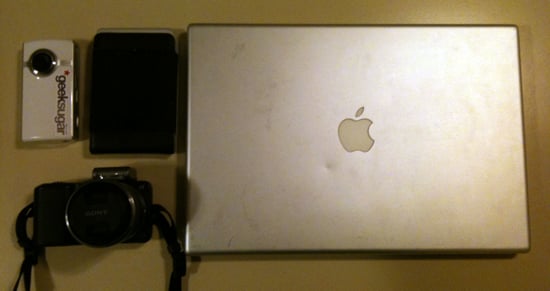 MacBook Pro — You can't blog without a laptop computer, and it just so happened that a trusty 15" was all we needed.
Sony NEX-3 — This camera came into my life just a few weeks ago, but it's already changing my photographic life. All the pics you see from CES were unedited, coming straight from the NEX-3 to the Internet. I'm pretty impressed with the quality.
iPhone 3GS — The 3GS became a tweeting and Facebooking machine during CES, and kept us connected with our official CES app.
See the rest of what we were carrying after the break.
Kodak Zi8 — This camera may be last year's model, but it was perfect for expo floor interviews since it has a mic-in for better audio.
Seagate 250GB external hard drive — You take tons of photos and video during this expo, and if you don't want to weigh down your laptop with all that data, you should store it on an external hard drive. I did, and it worked like a charm.
Flip Mino HD — As a backup to the Zi8, the Flip came in handy for quick videos that we posted to Facebook.
Earbuds — Though the blogger lounge is poppin' at all times of day, we didn't want to bug our comrades with our video tests. We packed along some inexpensive earbuds to keep the peace.
Want to see which gadgets each of us were packing? Check out our Facebook page to see our essentials and other behind-the-scenes footage!