Geek Out: Is Your Mom a Techie?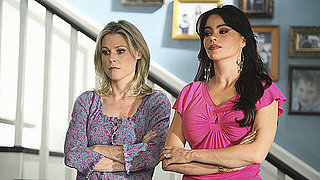 My mom is a smart cookie, but I doubt anyone will ever call her a geek. She races through paperbacks, but doesn't want a Kindle. She gets ridiculous enjoyment out of taking family photos on her iPhone, but couldn't care less about the iPad or mini PCs. In fact, she has been known to call me to talk her through setting a series recording on her DVR and waited weeks for my dad to set her up with an iTunes account. (Clearly, I inherited my geek genes from him.) Do I mind? Not in the slightest. While I poke fun at her when she asks silly questions, I know she is capable of figuring it all out herself, but likes my support. And I enjoy being able to help her with something. She's the person who taught me everything else about everything else, after all.
Is your mom a geek, or does she present more funny family tech stories than troubleshooting solutions?
Photo copyright 2010, ABC, Inc.