Geek Tip: Get Your Most Important RSS Feeds Via IM
If you're closely following a subject that's important to you, and don't want to get behind in the news for a second, stay on top by having your most-watched RSS feeds delivered right to your instant messenger account with this web app. Say you're closely following the health care debate. Just enter in the feed you want to follow (The White House Blog is a good one to start with), and every time a story on that site is posted, it's delivered piping hot to your Jabber or Google Talk account.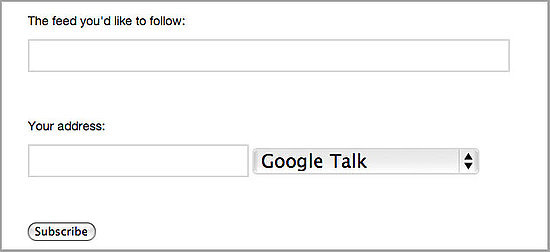 Although there's no support for AIM or MSN messenger just yet, you can vote for new features to be added in their Feedback section so the rest of us can get in on the RSS/IM mash-up action.