Geeks We Love: Jeff Rubin From College Humor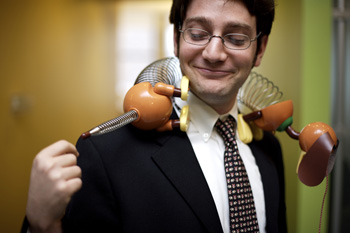 Next up in this week's Geeks We Love series: Jeff Rubin, the Executive Editor of popular humor site College Humor and the host of online video game show Bleep Bloop. He's also appeared in MTV's The College Humor Show and College Humor's popular iPad parody video, one of my all-time favorites. Here, his take on gadgets, his favorite board game, and whether or not he'd date a girl who could beat him at his favorite video game.
What gadget can't you live without? Why?
I had an iPhone that broke, and I made the decision to get another one almost instantly. Once you get one, there's no going back. I used to carry around a notepad, a camera, an iPod, a cell phone, and a calendar. The iPhone replaced them all and then some. My days of being terrible at directions and having to make lightsaber noises with my mouth are over. I almost feel like I have a superpower where I know everything at all times, and my only weakness is AT&T's spotty service.
Do you think that technology brings people closer together, or creates more of a distraction? 
The Internet's biggest impact on me, socially, has been helping me stay in touch with people I already know. I don't know if it necessarily makes you close, but I'm always a little bit aware of what my old acquaintances are up to. Even if we don't talk, there's an easy way to get in touch so the lines of communication are always open. It's a weak relationship, but it's a new type of relationship that didn't exist even five years ago. There are old friends from high school who I haven't spoken to in almost a decade but, thanks to Facebook, I have some idea where they're living, what they're up to, and how much free time they have at their job to play Farmville. 
To find out Jeff's favorite video games, what he really thinks about the iPad, and what he's planning to do this Valentine's Day,
.
What are some of your favorite/least favorite tech trends?
Being a nerd has gone mainstream, and I love it. Maybe part of me thinks it justifies the way I've lived my life. You have to explain yourself if you're not online and in a social network. Everyone knows when Apple announces a new gadget. Lost, an unbelievably complex show about time travel, is a mainstream network hit. The most popular movies are all based on comic books. Teenage girls now have their own Lord of the Rings to obsess over and study, and it's about vampires.
What's your all-time favorite video game? Would you date a girl who could beat you at it?
I'm not sure what my favorite video game is, but I would marry a girl that could beat me at it. I tend to enjoy games with really interesting art direction and unique gameplay. All-time classics I can always enjoy include Nintendo Ice Hockey, most Super Nintendo games but especially Mario Kart and Yoshi's Island, the arcade ZooKeeper, PS1 Micro Machines, Psychoanuts, Ico, Braid, and everything by Valve.
What else do you love doing that doesn't involve technology and games?
Believe it or not, I actually like as many as four to five things that don't have RAM. I'm passionate about bike riding, chocolate chip cookies, the national park system, pajama pants, and the board game Sorry (Sorry is not a game, it's a way of life).
What do you think (seriously) about the iPad?
I think the general public isn't really interested in it at this price, but I know plenty of people who use a laptop in bed so I think there is room for something like this to exist. It's interesting to see people interacting with the Internet outside the traditional desk-workstation setup. I think that's a trend that will likely continue, though I don't know that it will necessarily take the form of iPads. 
Do you have a favorite Valentine's Day memory?
No, but I'd like to make one this year. So hopefully Avatar's still playing in IMAX, because the theater's probably going to be empty.