Wedding season is moving right along here on the Sugar Network, but it's always fun to take a look back and see how everything started. Marriage proposals are getting more creative with the addition of smartphones, video games, and movie magic, and I can't help but tear up after seeing these sweetly geeky proposals from geeks all across the country. Check out six of my favorites here.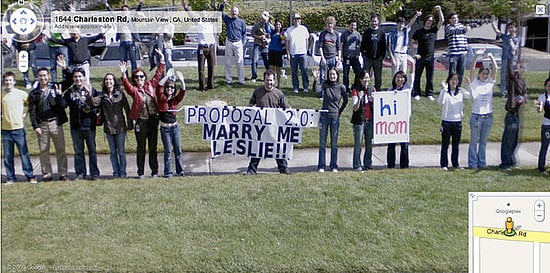 Making the movies jealous — The latest in a string of viral marriage proposals, Matt asked Ginny to marry him in an elaborate (Mac made?) movie trailer in a theater full of onlookers. Unbeknownst to her, there's a camera on her the entire time, and her reactions are totally adorable. Movie geeks, unite!
Widgets proposal — A Mac nerd made up a custom widget to propose to his girlfriend back in 2007. Mac dashboard widgets were the hot ticket item back then, and this one was the first (and only?) of its kind.
HP7 Android app — Disguising a Harry Potter trivia quiz as a marriage proposal isn't easy, but this determined geek learned how to develop one on his own in order to surprise the Muggle of his dreams.
See the rest of the list after the jump
Google Street View — Leave it to a Google employee to come up with a fun way to propose to his girl — by holding up a proposal poster as the Street View car whizzes by.
So romantech — This geeky guy built an iPhone scavenger hunt app for his lady, which took her around San Francisco, eventually leading to famed Dolores Park, so he could pop the question in person.
Classic Nintendo love story — How'd he do it! This gaming geek proposed to his fellow Nintendo geek one night. He actually hacked into a Nintendo game to pop the question, and her reaction is classic . . . just like the game. Truth be told, I teared up. What can I say — I'm a sucker for a good geek love story.