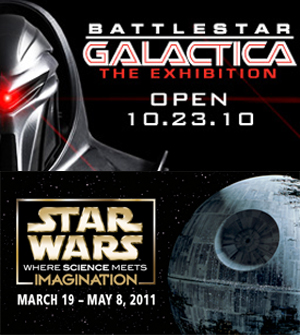 If you need a big ticket holiday gift for the geek on your list, I'd suggest a trip to Seattle. Besides taking in the city itself, there are a few awesome exhibits at the Experience Music Project|Science Fiction Museum (EMP|SFM) and Pacific Science Center that any BSG- or Star Wars-loving-geek will be dying to see.
From now until March 4, 2012, the EMP|SFM is running Battlestar Galactica: The Exhibition, showcasing full-size spaceships, costumes, music, and other props from the series. Check out a video of the exhibition to see just what's in store. Beginning next year on March 19 and running until May 8 is the Star Wars: Where Science Meets Imagination show at the Pacific Science Center. The exhibition features props and costumes, and focuses on the science from the films like space travel, mechanical prosthetics, robotics, and levitation technology.
Who's up for a geeky vacation?