Geeky Poster Prints
Mac vs. PC Prizefight Poster: Totally Geeky or Geek Chic?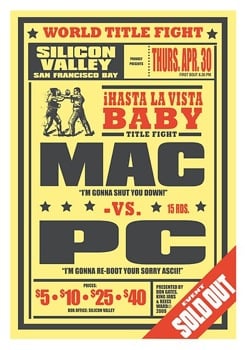 It's the ultimate throw down between Mac and PC . . . well, on your wall it is, anyway! This Geeky Nerd Poster ($15), details the fight of a lifetime between the two camps in an old-school style print that is fit for any computer nerd with a sense of style.
I gotta admit — I'm weighing in as a big fan of this particular poster, and already have a spot picked out in my home office for this bad boy. If you're into it as well, you should act fast — it's in a limited run with only 500 prints being made! But before you dig out your credit card, tell me — is it totally geeky or geek chic?