Geeky Posters For Holiday Gifts
Great Geeky Gift Idea: Framed Prints
If the idea of hitting the mall for a holiday gift is getting you down, don't worry — Best Buy is not the only place to score an awesome present. If you've got a particularly picky geek on your hands, you'll probably want to stay away from buying gadgets,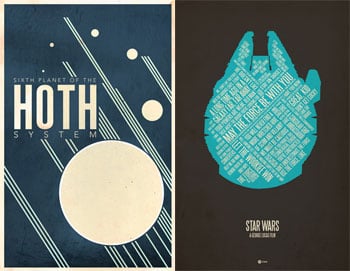 since figuring out the right tech specs and features can cause serious stress. Instead, why not gift them a geek-approved print, like this retro Star Wars travel print or movie-inspired poster, wall-ready and complete with a nice frame?
You can get custom framing done online, or even better — check out your local weekly Michaels' arts and crafts store ad for deep discount coupons. There's no shipping costs involved! Personally, I would be super excited to see the Hoth poster under my tree (hint, hint)!