Geeky Proposals
The World's Geekiest Proposals
Forget Paris or the gondolas of Venice. When you hear how one proposal went down, you'll understand why it's getting loads of attention and being called the nerdiest proposal of all time. Here's the story: a physicist got down on one knee in front of his girlfriend of seven years (a physicist herself) and handed her a piece of paper.
What was it, you might ask? Why, a paper called "Two Body Interactions: A Longitudinal Study" that read like a legitimate academic study. There was an abstract, a graph of happiness over time, and a conclusion. The summary of findings showed "that the projected happiness is upward with high confidence," and it even included a checkbox below the words, "The subjects response to the proposal should be indicated below." Of course, she checked yes.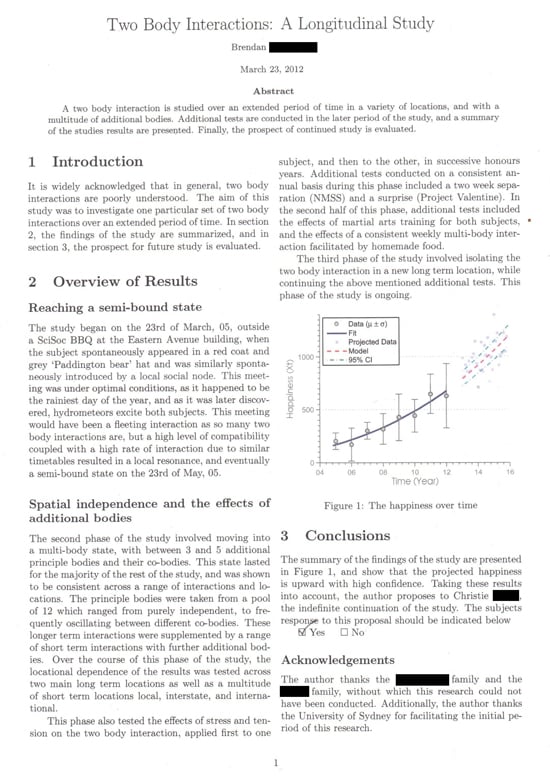 If that story got you all fuzzy inside, you'll enjoy these other tales of truly geeky proposals:
Game day — A love story, from virtual to reality. One couple was playing City of Heroes, an online game where players become superheroes, and were sitting next to each other in real life. The girlfriend asked her boyfriend not to look at her screen, but when she finally gave him the go-ahead, she had her character kneel down and propose. He accepted in the game but, like a true gentleman, turned to her in real life and said yes.
Three-letter word — Talk about playing for keeps. Arik and Jenny did the Sunday crossword puzzle together every week, so he thought it only natural to propose to her that way. He got the editor of the Boston Globe magazine to join in on the plan; the puzzle was called "Popping the Question," and the clue for 116 Across sealed the deal.
Coding for a cause —The list wouldn't be complete without a coding story. One guy used the programming language Perl to write code in the shape of a heart that asked his girlfriend to marry him; it even included a line at the bottom that read "be $mine for @ever."
See the rest of the list after the jump.
Making the movies jealous — Just one of many viral marriage proposals, Matt asked Ginny to marry him in an elaborate (Mac made?) movie trailer in a theater full of onlookers. Unbeknownst to her, there was a camera on her the entire time, and her reactions are totally adorable. Film buffs, unite!
Widgets proposal — An Apple fan made up a custom widget to propose to his girlfriend back in 2007. Mac dashboard widgets were the hot-ticket item back then, and this one was the first (and only?) of its kind.
HP7 Android app — Disguising a Harry Potter trivia quiz as a marriage proposal isn't easy, but this determined geek learned how to develop one on his own in order to surprise the Muggle of his dreams.
Google Street View — Leave it to a Google employee to come up with a fun way to propose to his girl — by holding up a proposal poster as the Street View car whizzed by.
So romantech — This geeky guy built an iPhone scavenger hunt app for his lady, which took her around San Francisco, eventually leading to famed Dolores Park, so he could pop the question in person.
Classic Nintendo love story — How'd he do it?! This gaming geek proposed to his fellow Nintendo geek one night. He actually hacked into a Nintendo game to pop the question, and her reaction is classic . . . just like the game.
Here's to geek love!