Geminid Meteor Shower 2012
Catch the Year's Most Brilliant Meteor Shower Tonight
If you're going to look up from that smartphone for just one night, make it Dec. 13 — it'll be worth it. The Geminid meteor shower, which, according to NASA, is "rich in fireballs," will be at its peak for the start of the weekend.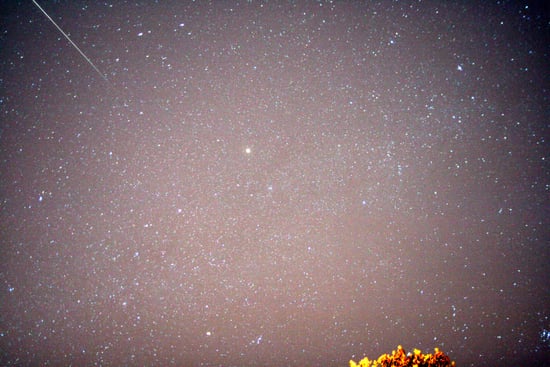 The Geminid meteor shower is unique in that it's slow, bright, and graceful, and unlike other celestial showers, the streaks of light come from leftovers of an asteroid, not comets. Looking at the night sky, the Geminids seem to originate from the constellation Gemini, hence the name. Check out our list of more shower-watching pro tips for the ultimate meteor viewing experience.
Peak viewing is between 1 and 2 a.m. — Meteor sightings will be most concentrated between 1 - 2 a.m. local time on Friday night/Saturday morning. However, a waxing moon will limit the clarity of meteor spotting, and your best viewing may be between moonset at 4 a.m. and dawn.
Keep your eyes to the east — Depending on your location, the constellation Gemini appears in the east-northeast horizon as the sky begins to darken. Not sure where to find the constellation? Check out this live chat and Ustream. — The embedded question and answer session and live stream will begin Dec. 13 at 11 p.m. EST.