Get Recipe Ideas From the Ingredients You Already Have With Supercook
Website of the Day: Supercook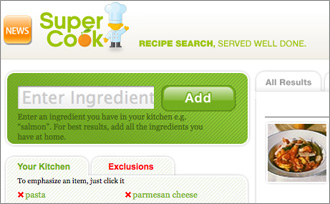 Oh, how I love the ways the Internet makes my life easier! New case in point: Supercook. I like to think I'm pretty creative in the kitchen, but sometimes even the best cooks need a little creative encouragement. Supercook is a recipe database that allows you to search for dishes based on ingredients you have on hand. The concept isn't new; in fact, I've written about a similar site before. But Supercook has some extra features that make recipe-searching even easier.
After adding several ingredients in the "add ingredient" field, a list of recipes pops up on the right side of the page. You're able to view all relevant results or refine them by course — appetizer, entree, or dessert. Plus, additional ingredients needed for the recipe that you haven't entered in your search are listed under each result for easy decision-making. You can even include ingredients you don't want to see within the results, helpful for a food sensitivity or allergy.
Do you have an interesting website you want to share? Create a PopSugar Account or log in to your account. Then join the Website of the Day group where you can post your favorite website! And you never know, it could be featured on GeekSugar! Here's a detailed guide to posting questions or posts to groups if you are new to the PopSugar Community.