Get Rid of Google's Left-Hand Sidebar
Geek Tip: Ditch the Google Left-Hand Sidebar
Earlier this month, Google released a new, fresh design, but it hasn't been a hit with everyone. If you're one of the many people who do not like the sidebar on the left side of the page, here's a quick tip to make it disappear.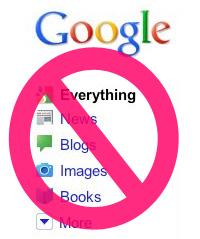 Instead of using the regular Google URL, type http://www.google.com/webhp?hl=all into the browser window. A search performed from this site will yield search results without the additional bar on the left side. To access this quickly, just bookmark the site and add it to your browser's bookmarks. Yes, it might be a pain to access this site as opposed to the easy access of Google.com from within your browser, but if you're seriously irked by that left-side navigation, the extra step is worth it.
There are also a few different browser add-ons for Chrome, Firefox, and IE that will yield similar results.