GigaPan Picture of the Inauguration
Gigapixel Photography: From Mars to the Presidential Inauguration
Picture-perfect moments abounded during Monday's presidential inauguration celebrations, but it's a certain type of photo that still has us geeking out days later: the gigapixel panorama. Below is a screen capture from just one part of Washington Post photographer Toni Sandys's GigaPan image of President Obama's inaugural address, which is comprised of 305 hi-res photos taken over a 13-minute period and packed with billions of pixels.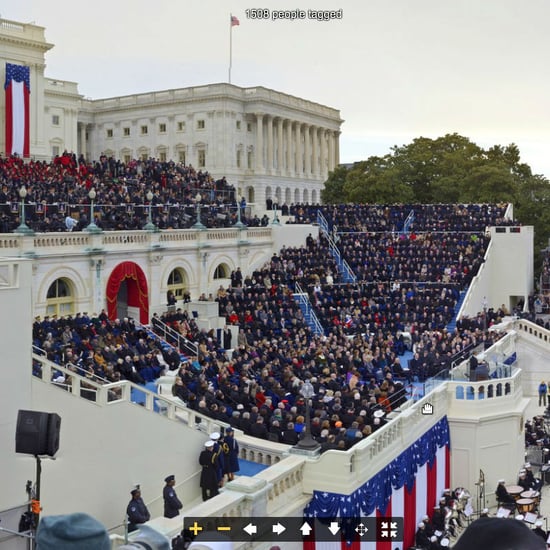 Not only is the image an HD panorama of the event, but it's also interactive. As you pan and zoom in on parts of the photo, those little specks of people come into focus and can be tagged with Facebook handles. The yellow markers are what readers have marked, while the blue are VIPs verified by the newspaper.
The GigaPan photo is nothing new — it was also seen at the president's 2009 inauguration. What is new, though, is the amount of gigapixel photos that have been produced in the last four years; there are currently over 95,000 GigaPans that have been uploaded to the company's online community.
So how is a GigaPan image made? The company started in 2008 as the commercial offshoot of a research team made up of scientists from Carnegie Mellon and NASA. Based on technology used on the Spirit and Opportunity rovers — you know, for imaging the surface of Mars — GigaPan has since become available to everyday consumers as an add-on for most DSLR cameras.
Keep reading to find out where to buy a GigaPan device.
Available in three models, the GigaPan Epic ($299), the GigaPan Epic 100 ($449), and the GigaPan Epic Pro ($895) are compatible with most compact digital cameras (the website has a handy chart that will tell you exactly which model to use with your camera). Then, once the camera is attached to the Epic's base, the technology takes over and decides how many hundreds (or thousands!) of images need to be taken to get that interactive gigapixel final product. The Epic's robotic arm clicks away on the picture to capture all those images, and the included software later stitches the pictures together.
What do you think of this NASA technology-turned-everyday photo accessory? Are you intrigued to use a GigaPan attachment?