Give Kindle Books as Gifts
Gift eBooks to Your Kindle-Loving Pals This Holiday
I've jumped on the Kindle train and am loving every second of it. Not only is the Kindle a great gift idea for your favorite bookworms,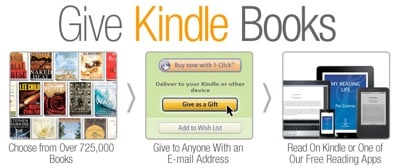 but if you've got a hard to shop for pal that is already enjoying the benefits of owning a Kindle, Amazon is making things easy by allowing anyone to give ebooks as gifts this holiday. Starting today, anyone can buy a Kindle book as a gift just by clicking the "Give as Gift" button when you check out. Enter the recipients' email addresses, and just like virtual gift cards, your pals will be notified of their gifts, and can download their books right away.
You can choose from thousands of titles — from non-fiction to the best "bodice rippers" — so there's sure to be something for everyone.