Glee Karaoke Video Game For Nintendo Wii
Karaoke Fans Rejoice! Glee Is Coming to the Wii
Good news for karaoke and Glee fans alike: Konami and 20th Century Fox are bringing the hit TV show to the Wii with Karaoke Revolution Glee, a Nintendo exclusive that allows players to interact with the music and characters of Glee.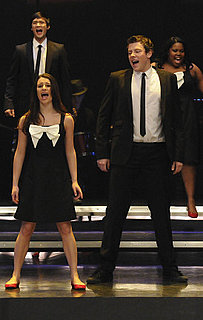 The game comes with its own microphone, and players compete by singing as their favorite Glee characters and grading each others' performances. The concept — as the name implies — is very similar to singing karaoke at your favorite hot spot. A video with words plays on the screen, prompting you to sing. And besides lyrics, you'll also see a pitch and rhythm meter alerting you when to sing higher or lower or take a breath (which should be like second nature if you're a Lips fan).
The game is expected to launch this Fall with up to 35 songs and will also have a multiplayer mode, which allows two or more people to collaborate on a duet or larger group song. And a real treat for all of the super-Gleeks: the game will also feature unlockable content including video clips from the show.
Photo courtesy of Fox