Glympse Geo-Tracking App
Glympse Geo-Tracking App: Way to Go, or Going Too Far?
Remember when you just had to call or send a text to let people — like co-workers, family members, and friends — know where you were at any given time? You know, like you're running late for lunch, so you call your pals and tell them you'll be there in 15? Well, that's all a thing of the past with a new geo-tracking app called Glympse. Glympse lets you ping your chosen contacts with your actual location, then they can track your every move for an allotted amount of time (five minutes, an hour, whatever you choose).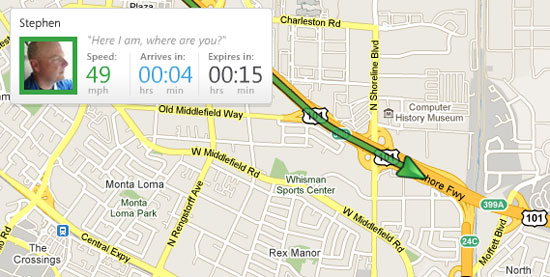 For example, instead of calling your boss to tell him you're on your way into the office, you can send him a Glympse. He gets an email (which he can view on his phone or PC), and all he has to do is open the included link to get an interactive map showing exactly where you are — and if you stop off for coffee before arriving. I suppose this app would be good for business purposes — like tracking clients who may be lost — but it seems a little excessive to me. The good thing is you choose who gets to see your movements and when, but is anyone this OCD about their location that they would need this app and service?