Gmail App For iPhone
Gee Whiz! Why the Gmail App Update For iOS Is Pretty Fantastic
Gmail (free) for iPhone and iPad finally got the attention it deserves. It looks like the native iOS app is quickly catching up to its once superior Android counterpart. The reboot of Google's official email app is so good, that it might just take the top spot for iOS mobile mail apps.
Gmail maniacs, you're going to love this update. Still on the fence? Here are a couple of reasons why Google's official email app version 2.0 deserves a place on your iPhone's main dock.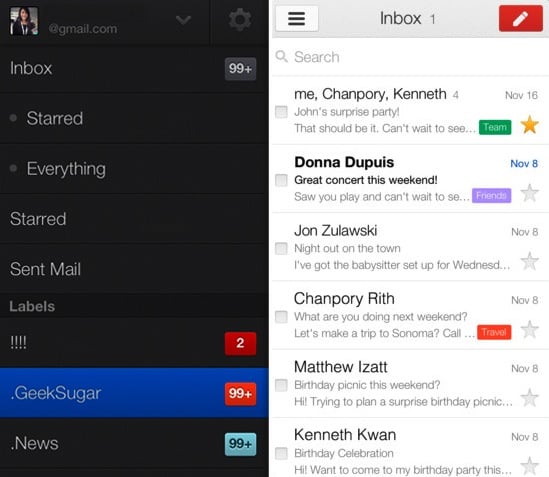 Switch between multiple Gmail accounts — Whether your address is @gmail.com or you're running Google Apps on your own domain, Gmail 2.0 lets you switch between alternate accounts (up to 5) and back again effortlessly.
Sensational search — The app predicts search terms as you type, just like Google search.
Pictures in messages — Get an image preview without having to download in the body of the email.
Sleek like Sparrow — Sparrow ($3) was, until yesterday, my mobile mail app pick. Google acqui-hired the app's team in July, and the best of Sparrow is definitely evident in the Gmail update. The most striking similarity is the clean minimal user interface, and gestures, like swiping right to reveal a navigation pane, and swiping over a message in either direction to archive.
More fantastic features of the Gmail for iOS reboot after the break.
Pretty colors — This is important, OK?
Infinite scrolling — If you've got 100+ unread messages like me (I know, gross), then infinite scrolling is a big, big bonus.
Improved notifications — The app works better with notification center, offering more badge and lock screen options.
Respond to Gcal invites and Google+ posts — The best part about having a Google account is how well all of the web services talk to each other. When a Gcal invite or Google+ notification appears in the inbox, users can respond right from the app.
Google contacts are automatically synced — Speaking of working well together, Google contacts are auto-completed as you type names when replying to or composing an email.
If you have 2-step verification, you don't need an application-specific password. — You'll just need to enter in the verification code you receive via text or call, just as you would on a desktop computer.