Gmail Tabs
Tab-ulous! New Gmail Tabs Sort Messages Automatically
Beware the inbox: it's a digital beast that requires constant care — and it's dangerous if left unattended. Email piles up fast (and furiously), and sorting through all of those messages can be a huge time commitment unless, of course, you have the new Gmail, which comes with smart tabs that categorizes email for you.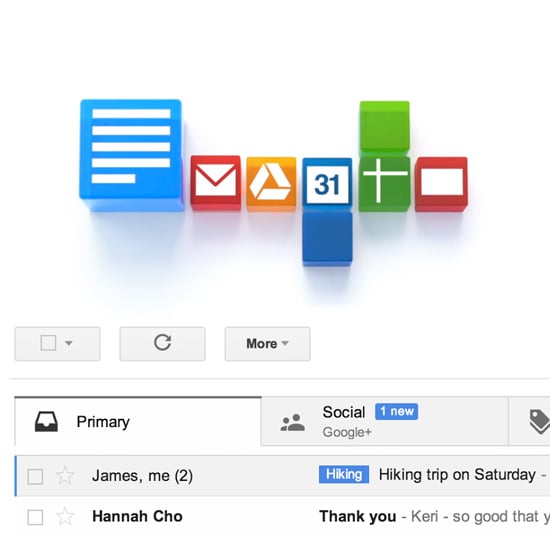 Google has given an old favorite a new design that's meant to streamline your inbox experience across all devices, on the web and on mobile. There are five types of smart tabs: Primary (the email you actually want to read), Social, Promotions, Forums, and Updates. Click the image below to preview the tabs up close.
As email comes in, flag certain senders to appear in the tabs of your choice and star messages you want to show up under Primary. Moving email manually between tabs is as simple as dragging and dropping. Google is rolling out the new inbox "gradually," but early adopters should keep an eye on the gear menu, where a "Configure inbox" option will appear once the new inbox is ready for their account.
Gmail tabs are coming to mobile, too. The Gmail app for Android and iOS is also getting the update within the next few weeks.
Google's emessaging service is becoming the product that ties all of Google's many services (Wallet, Drive, Calendar, etc.) together. At the I/O developer conference, the company announced that quick actions and sending money via Google Wallet would roll out soon, and the ability to search for Google documents, calendar events, and more right from the Gmail search bar should be available for all US users now.
What do you think of the new Gmail tabs: useful? Or is it more trouble than it's worth?