Gmail Undo Send Email Feature
Geek Tip: Undo a Sent Gmail Message For Up to 30 Seconds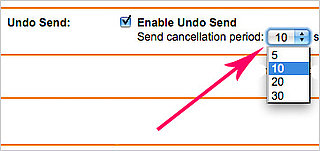 Google's Undo Send for Gmail feature debuted as a Labs feature and quickly turned standard — who doesn't want the ability to recall a message you've mistakenly sent before it lands in its recipient's inbox? The default setting for Undo Send is 10 seconds, but with a quick tweak, you can increase the time you're able to undo a message you accidentally sent to up to 30 seconds. Find out how after the break.
To make the change, just visit the Settings menu in your Gmail account. First, make sure you've enabled Undo Send. Then use the drop-down menu to adjust the time to five, 10, 20, or 30 glorious, sanity-saving seconds.
The only downside for enabling a 30-seconds-long window: your message will appear to take longer to send (to accommodate the longer "undo" period), but for anyone prone to the dreaded email misfire, the extra level of security will only help.