Google+ App Update
Google+ Adds Photo-Editing Tools (and More) to Its Mobile Apps
Google+'s app updates for iOS and Android are right on trend, with more photo-centric features than ever before.
Powerful photo-editing tools from the desktop/mobile application Snapseed, which Google acquired last Fall, are now built into the Google+ iOS app for iPhone and iPad. In addition to selecting filters for their photos, users can adjust saturation, contrast, brightness, filter strength, and more, before sharing the images with their circles.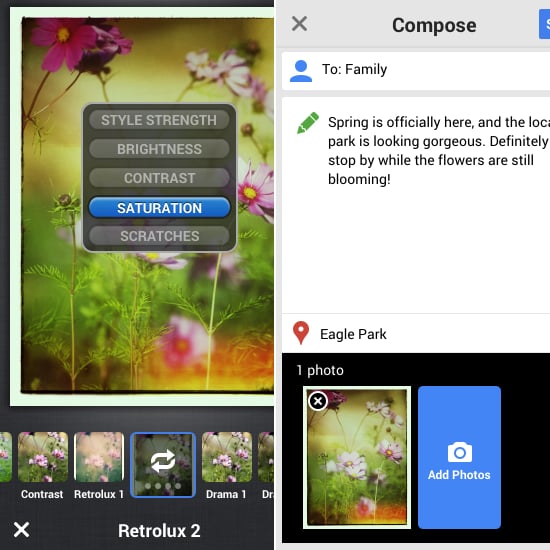 Google+ hasn't added photo-editing functionality for Android users yet, but the Android app did get a redesigned stream today that puts more social features up front and gives image galleries more visibility.
The +1, reshare, and comment buttons are now more accessible at the bottom of a post. Instead of cropped image previews, the entire photo will be displayed. When a gallery is posted, users can now swipe through the entire album from the stream.
Both the iOS and Android apps have a new profile design that reflects the recently introduced large-and-in-charge cover photo size.
While the new photo tools and updated stream are certainly an improvement over the existing app, Google+ is still trailing behind Facebook and Twitter, which have already introduced similar features. But with Google+'s more prominent role in other Google services, like search, Gmail, Drive, and even non-Google sites like Zagat, it might be only a matter of time before online users feel compelled to sign up for the company's social platform.
Do you use Google+? Will the latest update draw more users to the social network?