Google CEO Talks Politics
Google CEO Takes on Politics: Way to Go or Going Too Far?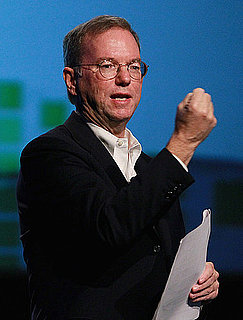 Google is really, really good at search. And over the past 12 years, it's added features that secure its dominance at the top spot of the search hierarchy, blowing companies like Bing and Yahoo out of the water. So when the CEO of a company that's arguably one of the most powerful in the world calls the American political system "shocking" and announces, "we want to change the game," it's bound to turn some heads. That's what happened when Google CEO Eric Schmidt announced he doesn't think many Americans realized "how much the laws are written by lobbyists" on stage at the Washington Ideas Forum.
Find out more about what he said and share your opinion after the break.
Without going too far into detail, Schmidt asserts that "if the system is organized around incumbencies writing the laws, the incumbencies will benefit from the laws that are written." But, Google itself has invested over $10 million lobbying Congress in the past three years.
I'm sure there are many more details to this story that won't surface, but I'm not sure Google should be embarking on a self-righteous plan to overhaul the American political system. On the other hand, maybe Google will shine some light onto a system that could use some improvement. Do you think the Google CEO's comments are justified? Do you think Google could have such a strong social effect on something as traditional and huge as the American political system?