Google Chromecast Apps
Happy Streaming! Google Announces New Apps for Chromecast
Google's thumb-size Chromecast streaming stick is bringing more content to TVs with new apps for video, music, and more. Music video platform VEVO, music streaming service Songza, and web-based video channel Revision 3 are some of Chromecast's notable app additions.
The Wi-Fi-enabled device plugs right into a TV's HDMI port and uses your home's wireless Internet connection to play media from Google Play, Netflix, YouTube, your Google Chrome web browser — or, thanks to today's announcements, any one of the 10 new apps for Chromecast. Pressing the "cast" button on your laptop, phone, or tablet will push that video to the big screen.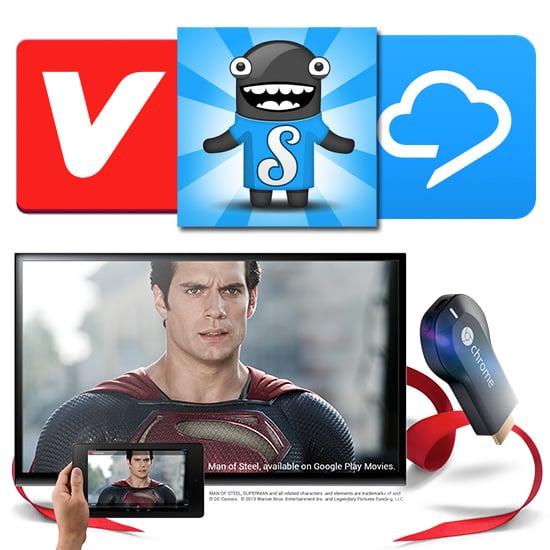 At $35, the Google Chromecast is great stocking-stuffer material. But with many other contenders in the space, such as Roku 3, Apple TV, and even the entertainment-focused Xbox One console, consumers will find it hard to decide which streaming player to gift this season. Will Chromecast's new apps convince you to grab Google's entertainment stick once and for all?
Chromecast Supported Apps
Netflix
HBO Go
Hulu Plus
Pandora
YouTube
Google Play TV & Movies
Google Play Music
Vevo
RedBull.TV
Songza
Plex
PostTV
Viki
RealPlayer Cloud
Revision 3
Beyond Pod
Avia