Google Flight Search Tool
Google Flight Search Offers New, Fast Way to Book Travel
Google's latest search product Google Flight Search offers another option for finding the best deals in the fast-moving world of online travel sources. Search airline ticket prices by entering the travel query in the main toolbar and clicking "flights" on the results page or access Flight Search directly.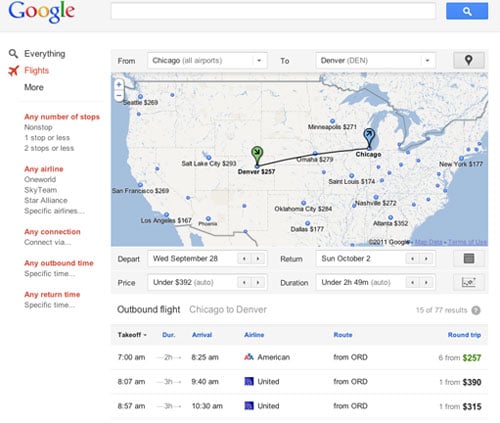 Results based on departing city show up in near instantaneous speeds with plenty of customization available. Use the tool's calendar function to show a bar graph of pricing options to a destination of choice over the next several months. Additionally, explore travel by price tag before choosing a destination by selecting departure city and viewing the Google Map results of flight pricing to major airports. If you were choosing between a weekend getaway to New York or Chicago from Nashville, this function immediately displays which city fits in your price range. The search parameters are currently limited to a number of US cities and round-trip, economy-class flights.
See Google Flight Search in action in the official video after the break.