Google Health Alternatives
5 Alternatives to Google Health
Bad news, health nuts: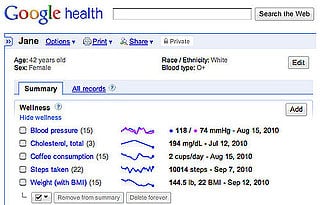 Google Health is being discontinued. Although we loved the free online feature that allowed you to organize, track, and share important health and fitness information in a central place, granting access to doctors, family pharmacists, or others who should be privy to your health history, Google says the program just wasn't catching on and will be discontinued next January. If you were a fan of the site, or are just looking for a place to track and store health and fitness information, check out these five alternatives to get in on now.
WebMD — Not just a place to see what that ache in your back can mean, WebMD offers up a food and fitness tracker so you can monitor your weight, calorie intakes, and even gives you recommendations on food and exercise times based on your goals.
BabyCenter — Expecting moms can get a ton of information on this site, which offers up calendars and trackers to help you through your entire pregnancy and beyond.
The Carrot — This site can help you monitor your fitness, nutrition, and medical data for a holistic view of your overall health. Plus, you can add or remove trackers to fit your lifestyle.
See the rest of the list after the break.
FitDay — This free diet and weight loss journal can be paired with the FitDay app for on the go calculating. Mainly aimed at those looking to drop a few pounds, you can also get a long-term diet analysis in the free version.
BodyMedia Fit — This sensor/website combo will cost you ($249 plus a monthly subscription fee), but it's a great way to track your fitness, food, and sleep schedules. There's even a Bluetooth-enabled iPhone app so you can track and sync your totals while away from your computer.