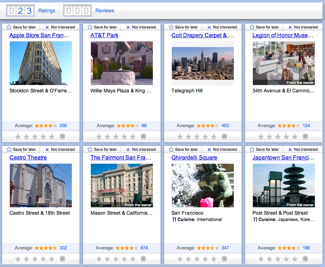 Sure, sure, we talked about Hotpot, Google's answer to Yelp, before, but I didn't realize how addicting it really was until I started using it more often.
Here's the deal: you can join Hotpot by using your Google account, then just start rating restaurants, hotels, parks, bars, whatever, around you. You can also leave a short review, and earn points for every place you rate. This is the part that gets me, cause I want to win. Sure, it's not a race, but I'm highly competitive and racking up points (therefore "beating" my friends) really motivates me. Not only that, but there's a ticker at the top of Hotpot that tells you how many more ratings you need to provide before getting more place options (in my mind, I call it leveling up). Google definitely got Hotpot right, and I'm fairly obsessed.
Have you used Hotpot yet? What do you think?