Google Instant Search
Google Rolls Out Instant Search Results
This morning at the SF MOMA, Google's VP of Search, Marissa Mayer, announced Google's "fundamental shift" to search — Google Instant, which streams search results as you're typing. Instead of hitting the enter key to obtain search results, your results will now pop up as you're keying in your search query.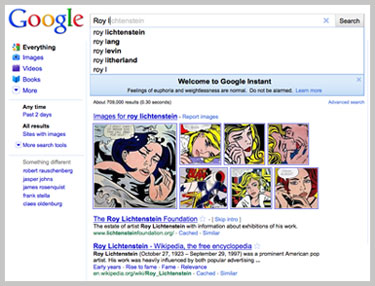 Google Instant even comes with a bit of a "psychic" ability, as it can actually predict what you're about to type — search predictions will show up in your search bar in light gray text. You can even tab through auto-complete results with your up and down buttons, which will bring you dynamic results for each option you select.
According to Google, Instant search can save you three to five seconds per search, which equals 11 hours for every passing second for all Google users! Amazing! Google Instant will be rolling out beginning today on Chrome, Firefox, Safari, and IE 8 browsers and for signed-in users in the US, UK, France, Germany, Italy, Russia, and Spain. Google also says this feature will be rolling out to smartphones later this Fall, and into your browsers' search box over the next few months.
Want to check out a demo video? Check out what's under the hood of Google Instant and see it in action after the jump.