Google Latitude Adds Deals in App
Even More Ways to Save: Google Launches Latitude Deals
Google just recently added check-ins and Google Maps integration to Latitude, and in an effort to compete against popular apps like Foursquare and SCVNGR, the company is now incorporating deals to its geo-location app.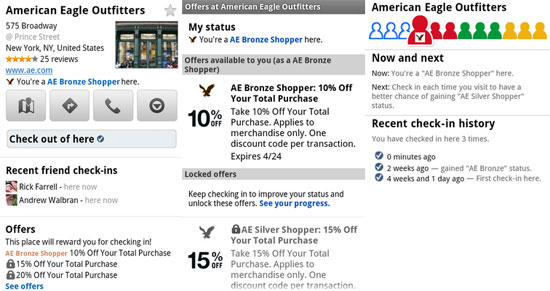 Google's list of deals partners is extensive (launching with Macy's, RadioShack, American Eagle Outfitters, and many more), but rather than allowing anyone to take advantage of the significant deals up for grabs, Google is adding another layer on to its process: status.
Find out more about it after the break.
Each location will have three status levels, like "Regular," "VIP," or "Guru," for example. As you climb the status ladder, the better your rewards will be. American Eagle Outfitters is offering up 20 percent off total purchases for its "AE Gold Shoppers," while RadioShack is offering 20 percent off for its most frequent "Shackaholic" visitors — both are the highest status level you can achieve at the respective locations.
There are so many rewards and deals apps to use now that you can really save some dough if you use them diligently. Do you have a location-based deals app that you prefer? Tell us your favorite in the comments!