Google Latitude Updates For Android
Check In to Places With Google Latitude For Android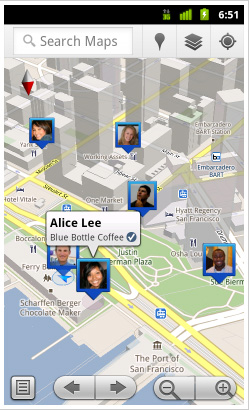 Google Latitude was introduced nearly two years ago, and after some initial worry, the service has evolved to become a helpful tool for sharing your locations with friends. Now, Google Latitude has been integrated with the latest version of Google Maps for Android to share the place where you are — not just your location on a map.
Google Latitude will still automatically find and share your location, but adding a specific place (and even photos) gives it context, similar to a Foursquare check-in. Settings for the new Google Latitude can be configured to automatically check you into certain locations when you arrive. And since Google Latitude tracks your location, it also knows when to check you out of a location, too — helpful for friends (or stalkers?) who may be trying to hunt you down.
For more on the new functionality (including privacy information), keep reading.
And, of course, Google Latitude is completely compatible with Google Places, which will display a location's place page upon check-in. And as an incentive to check in, users attain different status levels: "Regular," "VIP," or "Guru." In a nod to the importance of privacy, checking in is opt-in only, so you'll have to configure your Latitude settings to accept it.
This new functionality is only available for Android users, but Google expects to roll out an updated iPhone app soon.