Is Google Making Us Stupid?
Does Google's Brain Make Us Dumber?
Yesterday, Google announced it would be taking more steps to curb misspellings by introducing some changes into its search engine. Helpful changes include updates to Google Suggest — the drop-down list of words that appears when you begin to type a search term —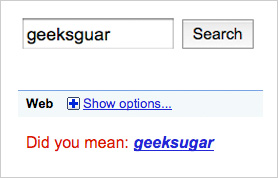 making it specific to your region and the ability to correct name misspellings in searches, even if the person you're searching for isn't famous. (Take note, e-stalkers.)
But now that Google can correct just about every misspelling, I predict a lot of lazy searchers who don't bother to check the proper spelling of a term before searching. I'm guilty of this already, and couple Google's smarts with spell check in Firefox and I probably misspell more words than I spell correctly. However helpful, there's a downside. Namely: laziness and/or apathy. My spelling has definitely deteriorated over the years, and I haven't really made an effort to fix it. What do you think?