Google Maps of Mt. Everest
Ain't No Mountain High Enough For Google Maps Street View
Since Google HQ calls Mountain View, CA, its home, the Google Maps team had to venture out on an expedition to capture some spectacular views from the world's tallest mountains on behalf of Street View. New high elevation panoramas of Aconcagua in South America, Kilimanjaro in Africa, Mount Elbrus in Europe, and Everest Base Camp in Asia, have been added to the Google Street View collection, which showcases exotic locales from across the globe.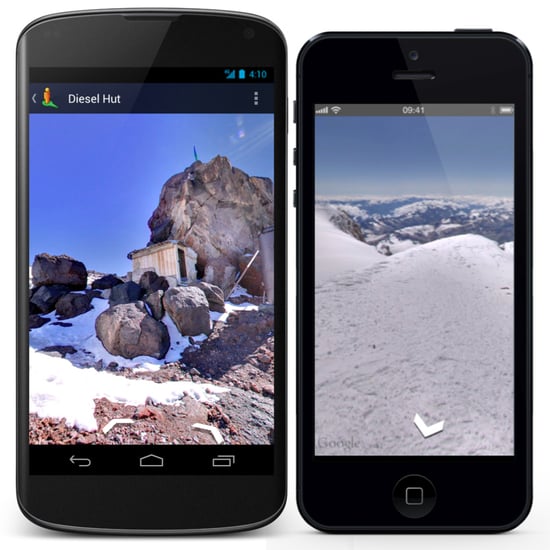 The highest mountains on of each of the seven continents are known as the Seven Summits, and the Google Maps team climbed half of those peaks in the last 18 months. Once the Googlers reached their final destination, a lightweight tripod, SLR camera, and fisheye lens were used to capture HDR images of the sweeping views.
Technically speaking, the project was no easy feat. Packing light is important on a trek — what seems manageable at sea level will only get heavier as you continue up the mountain. The expedition team needed to carry bulky equipment in addition to food and clothing. In a Google Hangout, Michele Battelli, who photographed the Aconcagua summit, explained that one of the greatest challenges were the batteries: "As the temperature goes down, battery life goes down. We brought 15 or so batteries and recharged them along the way."
We may not have plans to climb to the peak of Mount Kilimanjaro (a mere 19,341 feet above sea level), but thanks to Google Maps, we can now explore amazing views from summits and base camps around the world via the web or from the Google Maps app for iPhone and Android.
Explore the new 360-degree panoramas of Mt. Kilimanjaro and Everest Base Camp after the break.
Uhuru Peak, Mount Kilimanjaro, Tanzania
South Base Camp, Mount Everest, Nepal