Google Maps Traffic
Avoid Traffic With Google's Latest Maps Update For Android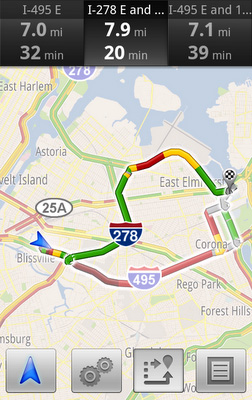 If you're on the go, using a smartphone to navigate a road trip or long drive puts you at a serious advantage. There are plenty of apps to track traffic and apps to help you on a road trip. Now, the latest update to Google Maps for Android will navigate you around traffic, finding the fastest route from point A to point B.
Previously, the app found the fastest route based on distance and expected traffic but didn't take real-time traffic into consideration, which could lead to a whole lot of frustration and wasted time if you hit an unexpected backup. Now, historical and real-time traffic results are both considered when displaying a route. According to Google, 35 million miles are guided by Google Maps Navigation every day, so this latest change could equal hours saved by drivers.
Starting today, Google Maps will automatically default to this new "fastest route" but will continue to offer alternate options, too.