Google Maps For iPad
The All-New Google Maps Has Arrived on Mobile
When the new Google Maps made its debut at this year's Google I/O conference, we were impressed. It's beautiful, immersive, interactive — and it's now available on iPhone, iPad, and Android. For early adopters, the new Google Maps on the web is also open for all to try.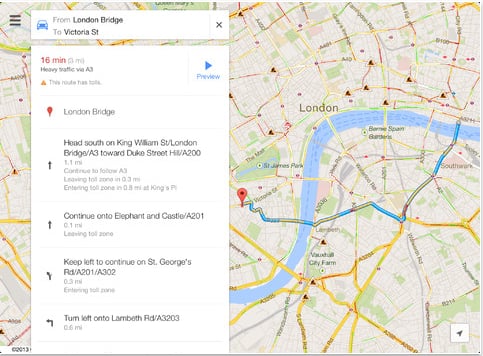 The new Google Maps arrived last week for Android users, introducing recommendation and search engine Explore, a new tablet design, a 5.0 star rating system for reviews, and Google Offers. While offline maps are no longer available in the update, typing "OK Maps" in the search box will make that viewing area accessible later.
The most significant addition is incident reporting, which allows drivers to see and report accidents, road blockages, and spills on the highway. User-generated traffic conditions was a feature popularized by Waze, which Google recently acquired for $1.3 billion.
The iOS app, which was released today, builds on some of the features introduced for Android and includes the first full-size Google Maps experience on the iPad. Bikers finally get turn-by-turn directions and navigation for bike paths in this update. Like the Android app, iPhones and iPads also now have incident reporting, Explore, Google Offers, and Zagat reviews.
Give the new mobile offerings for Google Maps a spin and let us know: do you like the new look?