Google Mobile Upgrades
Google Mobile App Gets Push Notifications, Search Upgrades
Even if you've synced up your iPhone with GoogleSync and receive push emails to your handset, this new feature from Google Mobile will come in handy for those emails and calendar events you just don't want to miss.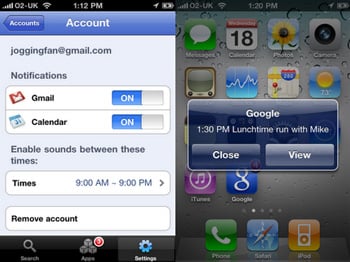 Your Google Mobile App now provides push notifications to your iPhone, alerting you when you've received a new email in Gmail, or have an upcoming Google Calendar appointment.
The notification comes in the form of a pop-up, like you'd normally see from a text message, news alert, or other app push notification to help keep you on top of your mobile game. To activate this new feature, first update your app from iTunes, then head to Settings > Google Account to turn on your notifications for both Gmail and Google Calendar. You can even set times to which your alerts will sound, like during the business day only for example, so you can get some peace and quiet after hours.
That's not the only upgrade in the updated Google Mobile app, though. Find out how Google made search a lot easier after the break.
Searching within the Google Mobile app just got a lot quicker — it's been upgraded to give you results as you type! So next time you want to check out the weather, look up flight info, or figure out a currency conversion, you may get your answer before you even hit the search button. Fast, indeed.