Google Music Beta Tour
Inside Google Music Beta
I got my invite for Google Music Beta last night and took a quick tour around to get my feet wet. In case you missed it, Google Music Beta is a cloud storage service that works across Android devices. Awesome features include wireless syncing (from your computer, to laptop, to smartphone, to tablet, all of your music syncs automatically without the need to plug in and upload), and iTunes scrubbing so you can get all of your already-stored music into the cloud.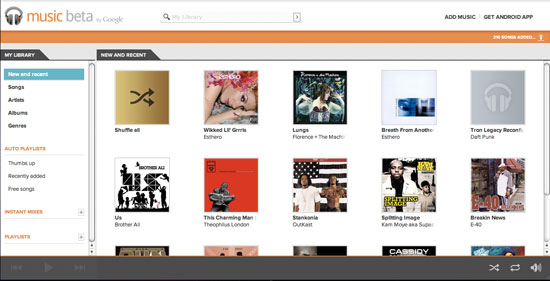 First, you'll need to install the Google Music Manager, which will help you get all of your tunes to the cloud. Installation was a breeze, and it took less than a minute to upload about 100 songs. It does take a bit longer for the titles to show up in your library, though. You can create "instant mixes" that are similar in nature to Apple's "Genius Mix" (selecting a song to mix from creates a list of similar songs), custom playlists, and auto playlists, and it will even auto-update if you've downloaded new music to iTunes or your music folders (when your device is set to auto sync). To hear about the limitations of Google Music Beta, just read more.
Google Music Beta is an awesome tool to have available, but it does have its restrictions:
Maximum 20,000 songs stored
Syncs with a maximum of eight devices
These points are easily overlooked thanks to the ease of use and accessibility of Google Music Beta. You'll need to download the Music Beta Player for your Android devices, but it's a simple installation and sync. I love it so far, and will keep you posted as I learn more!