Google Music Features and News
6 Things to Know About Today's Google Music Announcement
After six months of Beta trials, Google Music gets official and becomes a fully operational cloud music platform. Available to US users, Google Music automatically syncs an entire music library across any and all devices using cloud storage. Offline listening is also available as long as the user tags the specific tracks for offline use.
Adding to the storage capacity of Google Music is the creation of the music store tab in the Android Market. Every day the store will offer a selection of free songs handpicked by the Google Music team; additional songs can be purchased starting at $1.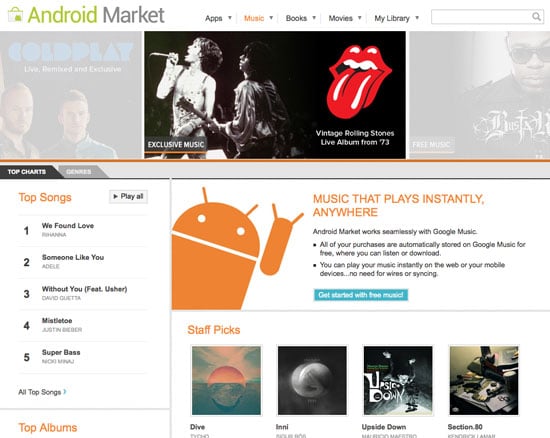 Here are six key features to know about the service:
Google Music is free and available to anyone. Though previously available by invite only, any Web user can now download and use the latest offering in online music storage. Up to 20,000 tracks can be stored within each Google Music account.
Android users can download the Google Music app to store their music libraries to the cloud, but must upgrade their systems to Android 2.2 to use the service. Apple iOS and Linux users can access Google Music and buy tunes via the Android Market on the web.
13 million tracks will be available for purchase through licensing deals with various record labels. Eight million of those songs are available immediately, while the rest roll out over the next several months.
Learn how you can share Google Music with friends after the break.
Recommend songs and share purchases from the music store with friends via Google+. After you've purchased a song you like and want to share with others, you can send the song directly to a friend's Google+ page where they will get one free listen. The same applies for full-length albums; share an album and the friend is allowed a listen of the entire album. For friends without Google+, the song can be sent via email.
T-Mobile users can have the price of purchased songs from the Android Market added directly to their monthly wireless bill.
Independent musicians can raise their profile with Google Music's Artist Hub. Participating artists can create their own music pages where they receive 70 percent of the revenue from the sale of their music (Google takes the other 30 percent of the profits). Links to purchase their songs can also be added to the artist's YouTube videos.
Do you plan on using Google Music and purchasing songs from the Android Market? If not, what online music service do you use?