Google Nexus 7
What's New in the Latest Google Nexus 7 Tablet
Google launched the Nexus 7 tablet in 2012 and, just a little over a year later, is upgrading their Android tablet with a more portable profile and more powerful performance. On Wednesday, at a press conference in San Francisco, the tech giant announced its second-generation Nexus 7, an Android tablet that's lighter, thinner, and more high definition than the 2012 model.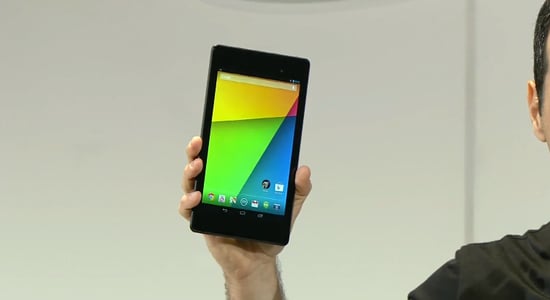 Take a look at what's new in this year's Google Nexus 7 tablet:
More portable — It's 2mm thinner, 6mm narrower, and 50 grams lighter than the 2012 Nexus 7.
High definition — The tablet now ships with a 1080p display. The 2012 model had a 1280 x 800 display, and the new version has been upgraded to 1920 x 1200. The pixel density increases from 216 pixels per inch to 323.
Surround sound — "Virtual surround sound technology" and a 5.1 sound system have been implemented into the new Nexus tablet.
Added rear camera — Last year's Nexus 7 had only a front-facing camera. The 2013 model comes with a front-facing 1.2MP camera and a rear 5MP camera.
Double the RAM — The system memory has been upgraded to 2GB RAM.
Faster network connectivity — Now, the Nexus 7 is 4G LTE-capable and boasts dual band WiFi, plus Bluetooth 4.0 (supports low-energy, battery-saving devices).
The new Nexus 7 is available next Tuesday, July 30, on Google Play, on Amazon, and in a variety of stores including Best Buy, GameStop, Walmart, Staples, and Office Depot (preorder now at Best Buy) in 16GB ($229) and 32GB ($269) WiFi-only models. The 32GB 4G LTE, data-enabled version ($349) will be available through T-Mobile and Verizon in the coming weeks. Canada, the UK, Germany, France, and other international locales will be able to buy the Nexus 7 soon, though specific dates have not been set.
Nexus 7 is the first device to ship with the latest version of Jelly Bean, Android 4.3. Google's mobile OS now supports app-specific parental controls and restrictions — you can disable all in-app purchases, for example. Android 4.3 can also stream content in 1080p HD quality; oftentimes it's only available in standard definition. Netflix is the first partner to support 1080p streaming for Android 4.3, and the new Netflix app is available in the Google Play store now.
The new Android update introduces OpenGL ES 3.0 as well, a high-definition graphics processing technology that allows game developers to add more details, like the face shadow, stubble, and skin texture you see below.
Google made some major announcements to its apps, too. Hangouts now support screen sharing, and the newly designed Google Maps comes preloaded with Android 4.3. There's now a textbooks category in Google Play with discounted purchasing and rental options for textbooks from major publishers such as Macmillan and Pearson.
As students head back to school, it'll be interesting to see whether they opt for an iPad or a new Nexus 7. Which do you prefer: the iOS tablet or the new Android offering?