Caffeine hounds can now get their fix in Starbucks stores while discovering new music on Google Play Music All Access, the just-launched streaming music service from the search giant turned social network turned, well, agent of everything on the Internet.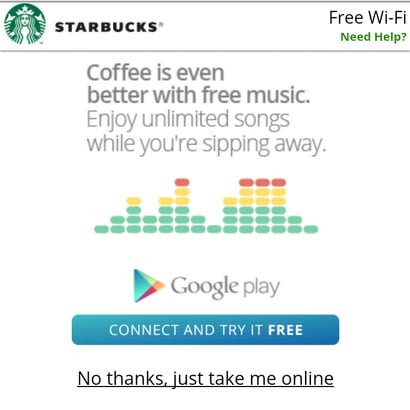 When logging into the WiFi of a Starbucks store, customers will see the option (pictured above) to "enjoy unlimited songs while sipping away," then sign up for a trial of Google Play Music All Access.
Announced at Google I/O in May, Play Music All Access is the company's take on monthly subscription music services like Spotify and Rdio. Google Play Music All Access already has a free 30-day limited trial for new users, so really this Starbucks promotion gives people who aren't yet familiar with the service the opportunity to give it a spin. Users who subscribe before June 30 will get a markdown on the monthly rate from $10 to $8.
Are you more likely to try Google's streaming music service if you're able to easily access it while getting work done at your local Starbucks?