Google Play Details
Google Play: Syncing and Storing Your Music, Movies, and EBooks in the Cloud
Google introduced Google Play today, which wirelessly syncs and stores all of your music, movies, apps, and ebooks that you buy from the Android market, Google Music, and the Google eBookstore across numerous devices. Google Play will make it insanely simple to streamline your media experience. For example, you can start a book on your Android tablet and pick up where you left off via your phone, or start a movie on your Chromebook and watch it later on your Internet-connected TV. If you download a song from Google Music, it will be instantly available across all of your devices, without storage or membership fees.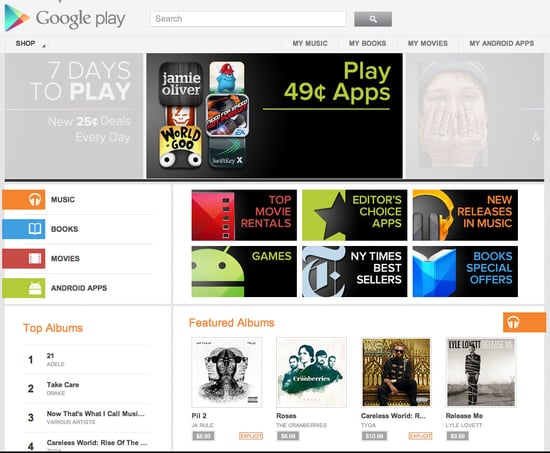 There will be some changes you need to know about though — as of today, the Android Market, Google Music, and Google eBookstore will become part of Google Play, changing their app names to the Google Play Store, Google Play Music, Google Play Books, and Google Play Movies, but you can access all of these in one place online through the Google Play website. You'll still have access to your purchased apps and media, store up to 20,000 songs for free, and be able to log in with your Google account. You can even pay for your purchases through Google Wallet.
Check out Google's cool demo video of the service and tell us what you think of the new Google media ecosystem after the break.