Google's Privacy Policies
In Response to Criticism, Google Will Simplify Privacy Policies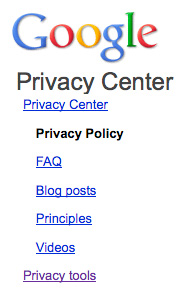 After attacks on its privacy polices — from issues with Google Buzz to the creepy anti-Google video put out by Consumer Watchdog — Google says it will simplify its privacy policies to help consumers better understand them. A Google blog post calls many privacy policies "long, complicated, and lawerly," vowing to make its policies "more transparent and understandable."
Get the lowdown on all of the changes after the jump.
The changes, which are coming shortly after Facebook Privacy overhaul, are not actual changes in policy. Google is simplifying the ones that already exist. All of Google's products are governed by one main policy, but many have supplemental policies of their own. To eliminate some of this clutter and confusion, Google will change policies to govern multiple products where it makes sense (Gmail, Talk, and Calendar, for example) and is rewriting redundant parts to make them more easily understood by the casual Internet user.
Google will also be adding content to its Help Center to help users navigate these policies and rolling out a new privacy tools page that includes all popular privacy features and options. The new, streamlined policy will debut on Oct. 3.