Google Reader Alternatives
Goodbye, Google Reader: 7 Alternatives to Get Your RSS Feed Fix
July 1 has come, meaning the end of Google Reader. But the fall of Google's beloved RSS feed aggregator has led to the rise of many others — the closure has even given old websites a new cause.
Cyber citizens of a certain age will recall Digg, the original up-vote, down-vote social news site that was forced to shutdown in 2010, and AOL, the mothership of AIM and "you've got mail." The two companies have entered the feed aggregator arena, and now both are frontrunners in the race for a Google Reader replacement.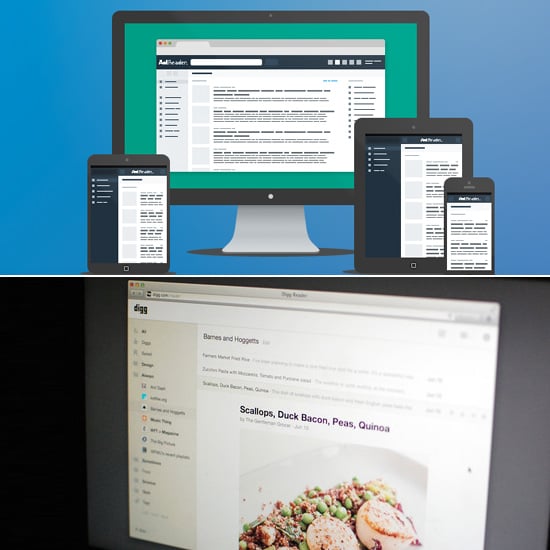 Google Reader will close for good in just a few short weeks, but not to worry, headline grazers, we've got your web browsing back. To find out how to export your Google Reader subscriptions and discover more worthy RSS aggregating alternatives, keep calm and read on.
Export Your Data
Google has suggested Google Takeout, a data liberation platform that supports exporting data from multiple Google products (not just Reader).
Your RSS subscriptions will be exported to an .xml file, along with a list of your bookmarked items and notes you have created. An .xml file is standard across most RSS readers, so you should be able to import the data into an alternative without a problem.
To export, follow this link to retrieve data from Reader only. You can find more information at dataliberation.org.
Turn to Alternatives
These feed aggregators will get you back to your information-collecting ways in no time:
Digg Reader (free, with premium services to come) — When Digg announced its reader in March, the company hoped to "identify and rebuild the best of Google Reader's features." The reader launches tomorrow, June 26. Expect a site that's simple, fast, optimized for any screen size, free (with premium paid options later in the year), and as socially conscious as Reddit, Tumblr, Twitter, and Facebook.
AOL Reader (free) — America Online opened its Reader service to beta testers on Monday. AOL Reader can import standard OPML format subscriptions from other RSS readers (like, for example, Google's). Like with Google Reader, you can star and tag articles, but unlike in the Google version, the layout view is more customizable. Sign up to beta test the service with an AOL, Facebook, or Google account.
Feedly (free) — The aggregator for web, iOS, Android, and Kindle helps users discover new sites within an industry. Browse by different categories, such as business or cooking, and you'll find a curated list of websites to follow. Users can also search for websites (like, for example, ours) by name or URL. Feedly has even provided tips and tricks for users migrating to the site from Google Reader.
Pulse (free) — If you've already got your favorite websites down, this visual RSS reader for iPad, iPhone, Android, and the web is a beautiful app that displays the news in a mosaic layout. Save stories to Pocket, Evernote, and other bookmarking apps.
Flipboard (free) — People who don't have the need for speed, and like their content presented in a graphic, interactive way, will like "social magazine" Flipboard much better than Google Reader. The mobile app for iPad, iOS, and Android pulls images from the article and displays large thumbnails next to the headlines and summaries. You can also connect your social media accounts and Flipboard will show you what friends are sharing.
The Old Reader (free) — This RSS reader is also socially focused, with the ability to find stories most shared by friends in your social media networks. If you want an alternative that has the same layout as Google Reader, The Old Reader is the news aggregator for you. The only downside: no mobile apps — the site is still in beta.
Fever ($30) — This app comes with a price, but it's a must for power newsies. The app for web, desktop, and iOS takes the temperature of what's hot from your feeds, and ranks articles from the most buzzed about (hot) to the least shared (cold). As a "prosumer product" (professional-grade consumer software), Fever requires you to host the app on your own server, so that users can have granular control over their feed's security, and ensuring it'll never close up shop.
What Google Reader alternatives have you tried and tested? We want to hear where you're taking your subscriptions!