Google TV Releases Update, Google TV Remote App
Google TV Gets Update, TV Remote App For Android
Although the Google TV has run into its fair share of problems since it launched earlier this year, that hasn't stopped Google from releasing a new update that brings a few new features into focus. And even though it's been rumored that Google has asked partner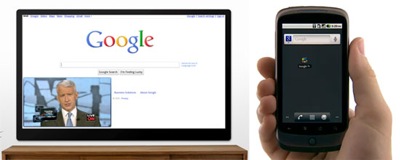 manufacturers to hold off on releasing new hardware until after CES, we can look forward to these updates on our current set-top boxes and smart TVs. Check them out after the break.
There's a revamped Netflix user interface, making it easier to browse for movies and TV shows.
Dual View allows you to view the web and your current TV show at the same time. You can even resize and move the screens around the viewing area.
Starting today, you can use your Android device as a remote control with the Google TV Remote app, found in the Android Marketplace.
New movie results page lets you search for titles from the web, TV, Netflix, and Amazon video on-demand.
Aren't into the new Google TV? Take this quiz to find out what kind of media player you are.