Google Translate Conversation Mode
Google Translate Gets Chatty With New Conversation Mode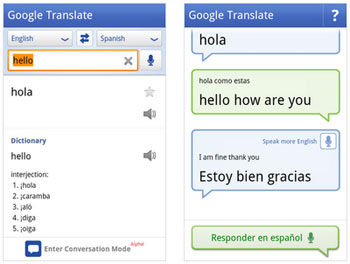 Technology is pretty amazing. Just when we thought that apps like Google Goggles and Word Lens couldn't make our lives any easier, Google impresses once again. Google Translate is already a heavily used item for me when I'm traveling, but the company announced today that it's testing an experimental feature called Conversation Mode, which would essentially allow you to use Translate to have a full-on conversation in another language. Right now it's available on Android phones for conversations in English and Spanish.
Find out how to use it when you read more.
To use Conversation Mode, just open up Google Translate on your Android device, and click the microphone icon. Speak clearly into the mic, and your words will be translated and read aloud in either English or Spanish. When your conversation partner responds in their language, the app will speak the translation back to you. Amazing! Since the feature is still in testing mode, it may not work properly for you at all times, but it's a cool feature that could be useful during your next trip south of the border.