Google and Verizon Net Neutrality Statement
Google and Verizon's Net Neutrality Statement: What This Means For You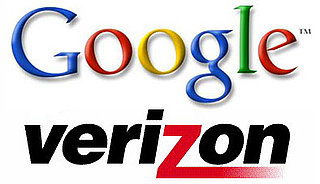 Google and Verizon have been in talks since last year concerning the issue of net neutrality, and just a bit ago, they released a joint statement on their conclusions. There has been much back and forth on who should be allowed to regulate the Internet (the federal government, Internet providers, both, or neither), and today both Google and Verizon have agreed that the Internet should be regulated by the federal government, and your Internet providers should impose fewer restrictions on what you have access to. Their statement is sizable and contains a lot of information, but I'll break it down for you in smaller, easier to digest bites after the jump.


Both Google and Verizon are proposing that:
Internet providers should not be allowed to discriminate against or prioritize legal content in a way that harms customers or competition; this includes paid prioritization. This means that wireline Internet providers cannot block certain applications or websites and favor others because they have received payment to do so.
Internet providers can develop new premium services and features (like gaming, educational services, health care monitoring) but can't include them in basic broadband services in order to charge customers more.
The FCC regulate complaints on the above nondiscriminatory standards and impose a $2 million fine on offenders.
Wireline and wireless companies should be transparent to all customers and developers about their networks and network capabilities.
None of these proposed standards would apply to the wireless sector (via wireless companies), so you're on your own there!
Both Google and Verizon endorse the reform of the Federal Universal Service Fund to allow the government to deploy broadband Internet access to rural areas where it is not available now.
There's a lot of detail to comb through, so we'll have more to come on this soon. In the meantime, check out the entire statement here, and let us know if you have any specific questions you want answered below in the comments!