Google Voice Android App Update
Google Voice Adds Widgets to Android Home Screens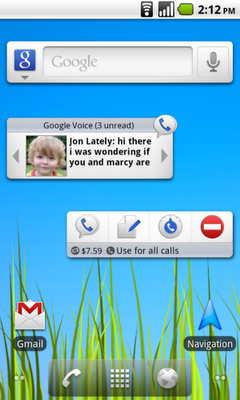 If you haven't signed up for Google Voice yet, what are you waiting for? Not only is it free to use on your Android and iPhone, but it's like your own personal calling service that allows you to take calls from anywhere on one central number. I'm obviously a big fan, and things just got a lot cooler for Android users — Google Voice added a home screen inbox widget that allows you to see and scroll through missed calls and view messages without having to open up your Google Voice app.
But wait, there's more! Find out more about the Google Voice settings widget after the break.
More than just an alerts widget, the new Google Voice settings widget allows you to get instant access to the Google Voice app, send text messages, change calling preferences, and Do Not Disturb settings to send calls straight to voicemail. Plus, you can even see your credit balance if you happen to be calling abroad.
The widgets can be used together (like in the pic above), or you can choose to use just one or the other on your home screen. The update to the Google Voice app is free in Android Market, and to quickly add the widgets to your home screen, select the menu button from your home screen, then Add>Widgets>Google Voice Inbox or Google Voice Settings.