Google Voice App Updates
Google Voice Gets Faster For BlackBerry and Android Users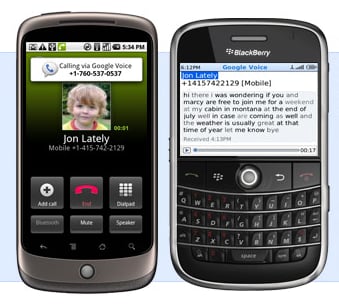 I am in love with Google Voice for many reasons — it's just so handy to have around! Not only can you keep your number wherever you go, but you can get transcribed voicemails, call forwarding, and many more features that streamline your mobile life. So obviously I'm excited to hear that Google has released an update for its Android and BlackBerry Google Voice apps that helps users make outgoing calls faster.
Find out how after the jump.
Before this update, every outgoing call you made through Google Voice would need to request access to the Google servers in order to be placed. Your call would then get an access number to be routed through. But now, Google is assigning unique "direct access" numbers for each phone number you dial, meaning your call will no longer require an access request. Instead, it will be put right though, saving you precious minutes. Think of it like this — each phone number you dial gets a secret and unique password for quick access into Google's servers. Honestly though, who cares about the science behind it, so long as it connects you to the important people in your life a little quicker!
Apps are available now in the Android Market and BlackBerry App World, or you can visit the Google Voice mobile site to download.