Google Zeitgeist 2013
Get Inspiration From Google's Global Resolutions Map For 2013
If you're drawing a blank when it comes to resolutions, perhaps Google's resolutions world map can offer some global inspiration. Users are invited to add their pledges to the map and see what others are resolving to do in 2013, too.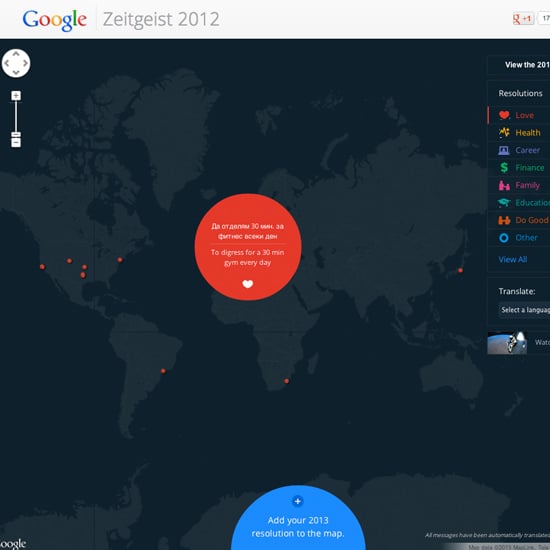 Two Google teams collaborated on the project: Google Maps, which plots the resolutions, and Google Translate, which converts them into 44 different languages. The interactive feature bubbles through submissions from around the world or lets viewers filter them by type (love, health, finance, etc.).
Share your own 2013 undertaking by clicking the blue field on the bottom and entering a postal code, country, and category. The map is completely anonymous, so no one's judging you for wanting to kick your online shopping addiction to the curb.
Some intentions are as ambitious as "peace for everyone" and as personal as "quit smoking," so submit what's on your mind and get moving on those commitments for the year with apps and websites that help you stick to your goals.