Google vs. Bing Image Search
Picture This: Google vs. Bing Image Search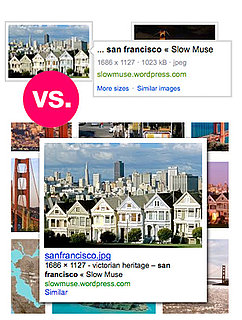 Yesterday's Google Image Search announcement gave searching for photos and other images a whole new face. The service (which was just rolled out to me) shows bigger photos with more detail, easier navigation, and better search options. I was totally enamored until I remembered Microsoft Bing's image search, which thrives on images — starting with the large, stunning image on the home screen. If you're searching for images, what's the best to use? After the break, a breakdown of each program's top features and strengths . . . search on!
Check out each search engine's top features, and what I like about both of them when you read more.
New Google Image Search:
Searching for images with the new Google image search brings up up to 1,000 images on a single page, displayed close together to take maximum advantage of the available space. Hovering over an image displays it in more detail, showing the image's name and the page it comes from. And clicking on the image opens its page behind a pop-out of the image. Narrow results by size, color, or type; you can also choose to show the image sizes directly on top of each image in search results for easy access.
Bing Image Search:
Bing's image search launched a few months after the Microsoft search engine debuted. Mousing over an image in Bing's search results shows a pop-up giving the image dimensions and website of origin. Plus, it has a "more sizes" option, which shows every occurrence of the image online, with dimensions, listed in a convenient format. Clicking on an image in the search results takes you to a page within Bing showing you where the image came from and offering a full-size option. The image's site appears underneath the search result (similar to the old Google), and one click takes you to the host site. One helpful navigational feature: after selecting one image, you'll still be able to scroll through the search results in a left-hand vertical navigation. After searching for a certain term, Bing also displays a list of similar searches; for example, a search for "San Francisco" yields the suggestions, "San Francisco Giants" and "San Francisco cable cars." You can filter results by size (including wallpaper), color, style, or layout.
The verdict:
For quickly searching for an image, Google search is fast, easy, and pretty intuitive. The images are displayed in a visually pleasing way, and there are a ton of them on each page. I also love the easy sort-by-color feature; just click on a color to view relevant images within that color palette. On the other hand, the Bing image search seems much more thorough, so if it's detail you're looking for, Bing is your search engine. The search refinements are much more intricate, and if you're looking for something specific, you'll find it! Even with the same search, each engine returns fairly different results, so if you're looking to be super thorough, try both. Maybe soon they'll be a Bingle for images, too!