Even if you prefer her acting credits to her lifestyle tips, it's hard to resist the cheerful weekly emissives on healthy cooking, world travel, and DIY beauty from Gwyneth Paltrow and her team of contributors at GOOP. Now she's taking her insider knowledge mobile with the launch of the Goop City app ($4) for iOS.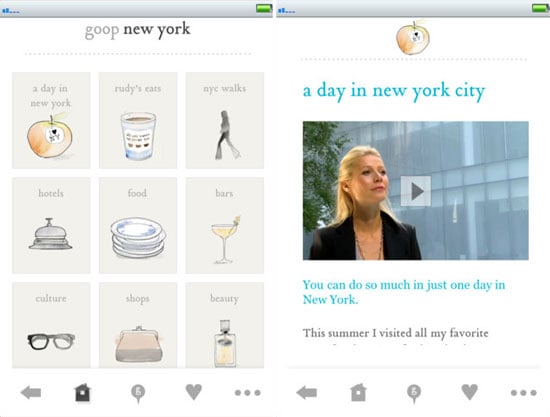 With a focus on New York City, Goop's first app is like having a mix of all your in-the-know uptown and downtown friends in your pocket, ready to share their coolest city haunts. After what Gwyneth describes as years of bad suggestions from bribed concierges and having spent much of her life in the city, she decided to take things into her own hands and create her own guide for visitors. She writes the Goop City app "will be your resource for the tried and tested of the best and coolest of Manhattan (and Brooklyn, and a bit of Queens, the Bronx and New Jersey)."
The app includes more than 200 listings of Gwyneth's actual favorite places in New York, with a blend of luxurious and affordable stores, restaurants, and attractions. Feel like a local in the Gwyneth-led video tours offering a showcase of the best stops. Now put the phone down and explore NYC in Goop-approved fashion.