Group Chatting Apps
Group Chat With Beluga For iPhone and Android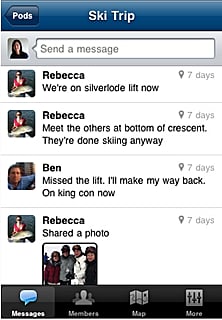 When Facebook Groups launched last October, it tapped into a previously under-served communications facet: group chatting. The concept is as old as an AOL chatroom, but with services like Facebook Groups, you are able to share information with a closed group of friends. Now a new mobile service called Beluga allows you to message groups of friends across platforms. Free apps work on the iPhone, Android devices, and any computer with an Internet connection.
To use the app, create private groups (called pods) of friends. Then, post text, photos, even your location to share with all of your friends within one pod. Mobile app users can also access all of their pods and notifications with any web-enabled device. The apps are free, and users will never incur text messaging fees. Users are alerted to new messages via push notifications.
Get the app for free in the Android Market or App Store.